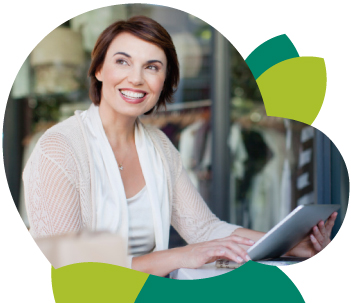 SAVE
$
50
1
YOUR PRICE: $149.95
Offer expires 12/31/12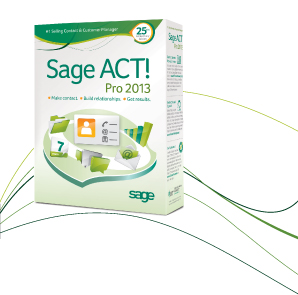 Have the info you need with access to your Sage ACT! contact and calendar details from your smartphone or tablet.4
Use the latest, greatest mobile devices, including iPhone®, iPad®, BlackBerry®, Android™, and Windows Mobile®.4
Keep your team in lock-step with Sage ACT! Connect, which lets workgroups have shared access to the most recent Sage ACT! details.
No complex steps or equipment are required to go live.
Be social media savvy when you import your Google® and Yahoo!® contacts into Sage ACT! Connect -- even link Facebook® pictures to the contacts you keep.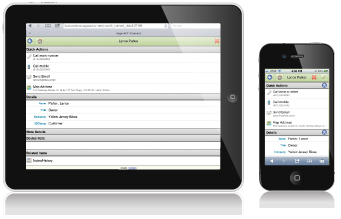 Gain an insider's-perspective of your customer's day-to-day interactions through a centralized view of your contact's last 25 posts made on LinkedIn® and Facebook®.
Dig deeper for more information by clicking on a post to display the complete social media profile.
Improve your sales and marketing effectiveness by actively watching your customer's posts and related sentiments so you can gauge delivering the right offer and message, at the right time.
Put a face to a name by viewing recommended Sage ACT! contact match-ups and associating them with your LinkedIn Connections or Facebook friends.

Extend your reach beyond email addresses by automatically posting your e-marketing messages to your LinkedIn, Facebook, and Twitter® pages.
Viewers who have "Like"d your business Facebook page will immediately receive these updates as well.
Go viral! Add social media sharing icons to your email footer so recipients can help spread your message to their social networks.
Sage E-marketing for ACT! gives you a simple way to grow your business by regularly communicating with your contacts.
Create and send professional, eye-catching email campaigns that fit the style of your brand.

Get started with one of many sample Smart Task templates and accompanying email templates for the most common activities, and set in motion basic or advanced steps to occur automatically.
Set it and forget it! Enable your Smart Tasks to run offline7 from your server, so your designated steps can keep moving forward, even when Sage ACT! is closed.
Save precious time with data/field triggers8 that automatically update records once certain conditions are met, like changing the status to Closed-Won once the opportunity has reached the sales fulfillment stage, which kicks off a reminder to issue a Welcome Kit.


Send and receive emails from Gmail® and Sage ACT! will keep a history of those communications
Sync all or just a subset of your Sage ACT! contacts with Google, then access contacts from either application.
Sync your Sage ACT! calendar with Google calendars manually or automatically using pre-programmed intervals.
Find that key document or piece of info you need because search is faster and more expansive than ever.
Filter your search criteria by all dates, last 24 hours, last week, and last month.
View search results displayed by relevance and double-click on the item of interest to be taken to that particular field or attachment.
Quickly capture impromptu notes, phone numbers, and personal reminders, with or without opening Sage ACT!, when you use Sage ACT! Scratchpad, a convenient, virtual notepad.
Prioritize and check off items once completed, print the list to take it with you, or push those updates into Sage ACT! with just a few clicks.
Send items to Sage ACT! as activities, notes, and history, even assign them to contacts.
Call 1-800-780-8098
Use promo code: C-4293-0001
Contact your
Try it


Contemporary new features and enhancements that help you leverage the latest trends in mobility, social media, and e-marketing to drive your sales and marketing success.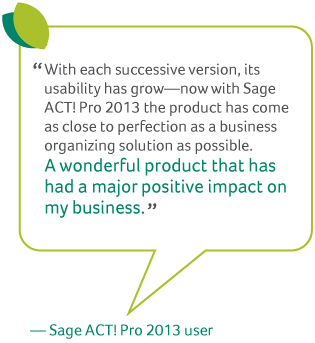 Please click here for the
Sage ACT! Preference Center
to receive special offers, contest news, and exclusive information.

1 Offer valid in the U.S. and Canada only. All prices are in U.S. dollars. Savings based on MSRP of $199.95 for Sage ACT! Pro 2013 upgrade. Offer expires 12/31/12. Sales tax is additional. Price listed is per user.
2 Certified Consultants are third-party vendors. Sage and its affiliates are in no way liable or responsible for claims made related to the services provided by third-party vendors.
3 Requires additional subscription.
4 Review Sage ACT! Connect system requirements at
www.ACT.com/ConnectSystReq
to confirm supported web browsers, tablets, and mobile phones.
5 Requires additional subscription.
6 Requires a subscription to Sage E-marketing for ACT!.
7 Sage E-marketing for ACT! steps will not run offline.
8 Data/field triggers are only available in Contact and Opportunity entities.
Important Notes:
For Sage ACT!:
Review Sage ACT! system requirements at
www.ActSolutions.com
or contact your add-on product provider to determine compatibility for your add-on products.
For Sage Connected Services for ACT!:
The mobile component of Sage ACT! Connect requires an active data plan. You are responsible for all data related charges to your mobile phone. To facilitate mobile setup, Sage ACT! Connect sends a text message to your mobile phone. Based on your wireless plan, you may receive an extra charge from your carrier for this text message. Sage E-marketing for ACT! is powered by Swiftpage™.
©2012 Sage Software, Inc. All rights reserved. Sage, the Sage logos, ACT!, and the Sage product and service names mentioned herein are registered trademarks or trademarks of Sage Software, Inc., or its affiliated entities. All other trademarks are the property of their respective owners.